Deborah's Voice
Deb's rich and engaging voice gives your project that authoritative edge with a smooth finish every time.
Dependable and direct-able making your message her priority.
---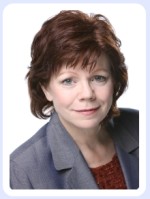 Deborah's Biography
Deb got her start on the stage having graduated with a B.F.A. in Acting from Virginia Commonwealth University. She then migrated to Washington, DC where she and several of her theatre pals started an experimental theatre producing new plays by local playwrights. She has performed locally at such theatres as Ford's Theatre and The Kennedy Center among others.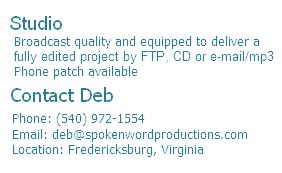 Today, Deb's stage is her in-house recording studio where she gets to perform all the roles in the script! With over ten years in the voice over industry, her studio is equipped with FTP, phone patch and email via mp3s to deliver a fully edited project--music too, if you like.
Always drawn to collaborating with local writers, she recently narrated a murder mystery novel by a first time author that was made into a Hallmark movie in the spring of 2013.